I don't know how many of you use Linkedin. I became a paid user since yesterday. Linkedin is definitely one of the very early social network ideas started in the middle of the dot.com bust. For years they had been desperately looking for a business model and I think time has come for one. I think there are plenty of missed opportunities to innovate on the experience front which in turn would translate into greater traffic, advertising or subscription revenue.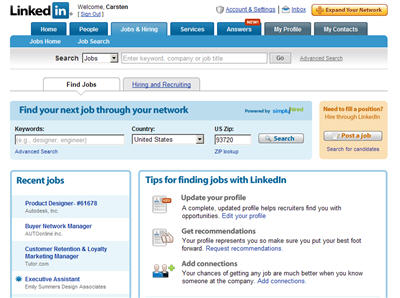 I've heard news that they are resigning a new homepage with a focus on providing users with reasons to return more often. On-site messaging is one idea but not a big one. There should ways to show network activity and that alone will drive traffic. I don't think aggregation of news is a good idea and I think they are already playing with the idea. They do need a much stronger presence on the web and without specialty applications that is difficult to do. They do have the options of providing an API and attract some developers. So far the only known partner is Business Week and they will implement a few features using LinkedIn's API from the information in users' profiles and associate it with the content in its articles. The idea is to display, via a popup, how many people in a company are directly connected to a user or in the extended network or geographical region of a user.
I am not saying LinkedIn will or will not become the Facebook of business. The number one big big problem is LinkedIn profiles are static and doesn't create a dynamic network unlike Facebook and others. It is simply an address book with some connectivity components. They really need to start thinking what Web 2.0 means for them. For me, I want people to see the cool projects that I am working on or idea that I have but there's nothing in Linkedin for that. Everything on my Facebook profile is linked. There are tons of other features I can come up with; I won't go through all of them all here.
Obviously they have been doing a couple of things right. But they have yet nailed the killer experience design needed to make this big. It is still too much of static networked-rolodex, I don't think the solution is adding more features, but making some of features better and putting some 2.0 ideas to work here. Expect user based continuous to grow and I think they are at the beginning of a hockey stick if they get this right.