Yesterday I was invited to speak at the Rotman School of Management on Marketing 2.0 and there were a lot of questions and interests around Facebook and monetizing widgets. Many marketers (and MBA school students) are strategizing about the next cool idea to build tiny branded applications on top of Facebook Platform, then they can step back as users download and distribute so they can sit back and watch it grow.
One student was showing frustration on how impossible it is for them to make money. A lot of people were jumping onto it without a good understanding of the econonmics and some students questioned why people continue to do. I gave them an analogy that many people move to Hollywood but how many really end up becoming a star. The point is people love doing it even without the money. Since Facebook started adopting its open-access policy, it has grown to more than 37 million active users. And hrough a partnership with Microsoft, Facebook now places interactive ads on the left and sometimes on the bottom of users' personal pages. In addition to selling its own flyer-like ads that can be posted to particular networks, and it places sponsored info in its "news feed" section, which updates users on the recent activity of others in their network.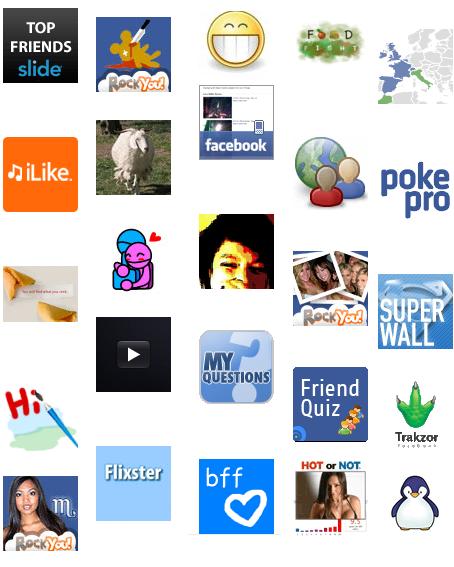 Facebook is not worried about third-party developers cannibalizing demand for its own advertising. There is plenty of money to go around. According to eMarketer, advertisers will spend $900 mm on social networks this year. By 2011, that number will reach more than $2.5 billion. Yes $2.5 billion. The top three players will gram 70% of all revenue with Facebook and MySpace being the top two. But having said that, here's one app does raise some serious strategic issues.
Since Facebook does not allow users to sell ads on their profile pages for obviously reasons. But a Montreal start-up Weblo since created widget that allows people to sell space on their pages in Facebook and others MySpace and YouTube. The company believes that users are content creators and therefore they should be allowed to do that. Weblo started the service in Oct. In the past month the number of people using it on Facebook has grown from 200 to more than 1,500. Expect that number to go up.
Facebook does allow people and companies that design widgets for use on the site to sell ads in the widget interface page, called the "canvas page." But those widget companies cannot sell ads on the profile pages, either. Weblo shares ad revenues with the people who let it place ads on their pages. The question is how long will Facebook allows this go on if it gains momentum, particular after their Beacon announcement over the past month.
Back to our 'widgetnormics' discussions which I wrote about two months ago here, let's do some quick calculations on these business models. Let's say a 4-5% daily active rate and 3 pageviews per visit (I think this is a reasonable assumption), an app developer with a $0.50 RPM would need to get to around 900m installs to get to $25m run rate.
If we look at the app with the most installed-base on Facebook - Slide's Superwall which has around 21m installs. Clearly, so called 'broad reach' app developers need to develop 1/ multiple (2/ high engagement ans stickly apps (ie higher active rates and pageviews/visit than these assumptions) 3/across multiple social networks to be able to get close to this revenue target. So it is not about one trick pony. Using the same activity and pageview assumptions, an app developer with a $10 RPM would need 46m installs to get to $25m in revenue. Apps with endemic ad opportunities can easily realize this level of RPM but will still need to be in more than two major social networks to get to those installed base. It simply doesn't make sense to limit your app on Facebook alone. Social network platforms are avenues for distribution, and app developers should be taking advantage of all of them. They need to be cross-platformed. So back to the drawing board for your Facebook widget big ideas.
GOOD NEWS. APPLE SUB-NOTEBOOK IS COMING: There are lots of rumor from multiple sources that Apple sub-notebook is finally coming to the market in 3 months and will be priced at $1500(not bad), there are also plans about a 3G iPhoe to follow. I have been waiting for this for a while as the current MacBook is a little way too heavy for me (compare to my IBM X series tablet), a new 13 inch (many are guessing that it is 12 inch) LED screen and is 50% thinner than the current MacBook, it uses NAND flash memory instead of a traditional hard disk drive. I should pre-order a few now. I think they will come in black instead of white or silver grey. Have a great weekend!