Apple is filing a few more patent update. Apple recommends an audio user interface that generates audio prompts to help a user navigate through the features of handheld computing devices. Audio prompts would provide audio indicators that allow a user to focus their attention upon other tasks. The filing notes for handheld devices include voice synthesis engines to provide test-to-speech conversion which tends to produce poor quality audio due to computing power limitations. So Apple recommends a system in which a host computer -- such as a Mac -- performs the processing-intensive text-to-speech conversion of a handheld's media file names and menu items when it is connected over a wired USB or FireWire connection. Under this method, the handheld device only needs to perform the less intensive task once it is disconnected and used on the go.
Apple also filed for a continuation on a old patent originally filed 2004 on a "wide touchpad" for laptop. The patent application gets people thinking particular with the recent interest in multi-touch technology. I think they are playing with an idea of a iPhone-inspired Macbook with some innovative "smart" touchpad technologies. Apple dismissed any rumor by saying that this is only a "research" project.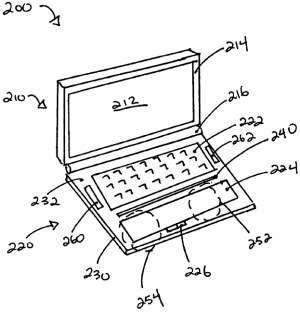 They're proposing an enlarged wide version touchpad which "may be a cursor control device having the capabilities of conventional computer mouse devices, such as the ability to point, drag, tap, and double tap etc. The touchpad would be located in the area normally reserved for the palm rests and be intelligent enough to ignore unintentional contact. i don't know how they deal with the accidental touching as users rest their hands on it. They are probbaly looking at a "smart" touchpad instead. I can't wait for a small lightweight MacBook as the current small one is rather heavy, at least compare to my ThinkPad X. No reason why it should not have built-in VOIP with webcam, I don't think we will get this before this Christmas. It would be nice. Steve, pls have them available in black. Thanks.